Central power supply for up to 30 keyboards
Robust, linear power supply (not a switching power supply)
Rapid fault diagnosis for attached patch cables by LED indicators
Connection to keyboards by standard commercially available XLR cables, or XLR cables available directly from us.
Power supply voltage: 230V/50Hz
Power: 160VA
Primary fuse: Thermal fuse (resettable)
Output voltages: 4 x 12V/DC  (XLR jacks)
Output current: 4 x 3,3A  (self-resetting polyswitch fuse)
Accessories - Connector cables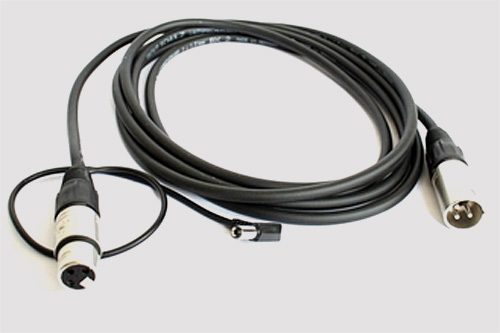 Individual keyboards connect to the LPS-12 power supply with this type of cable, which is provided upon request. The standard length is 3 meters. The cables are supplied with one (see picture) or two connector plugs for keyboards. The second connection on the twin-connector version is in the position of the right-hand plug in the picture.
Price – Standard 3 meter cable:
| | |
| --- | --- |
| for 1 keyboard: 18.- € |       for 2 keyboards: 23.- € |
We also produce these cables upon request in other lengths.
Surcharge per meter:   1.- €
Delivery to schools provided upon order confirmation by invoice (prepayment not required)